I know I visit a lot of #LouisianaAF places. I also realize the name of this restaurant is one of the most famous pair of names in Louisiana folklore. You think i'm yanking you chain by writing about a place like this. Well, just keep on reading to find out about this gem of a place in Houma.
First, let's start out with a joke.
Boudreaux, in his usual highly inebriated state, accidentally stumbled into the church building Saturday afternoon, trips his way into the confessional and sits down. The Priest, there of course to hear confession, hears nothing. The Priest coughs to let Boudreaux know that he's ready to listen to him, but still hears nothing. He then knocks on the wall separating them, and Boudreaux tells him, "Sorry, podnuh, der ain't no paper in dis one neither!"
There's nothing better than a good Boudreaux and Thibodaux joke. If you want to read more, check out this site where you'll find the one I lifted and a bunch more. You know it's good when i'm linking to a Tripod site.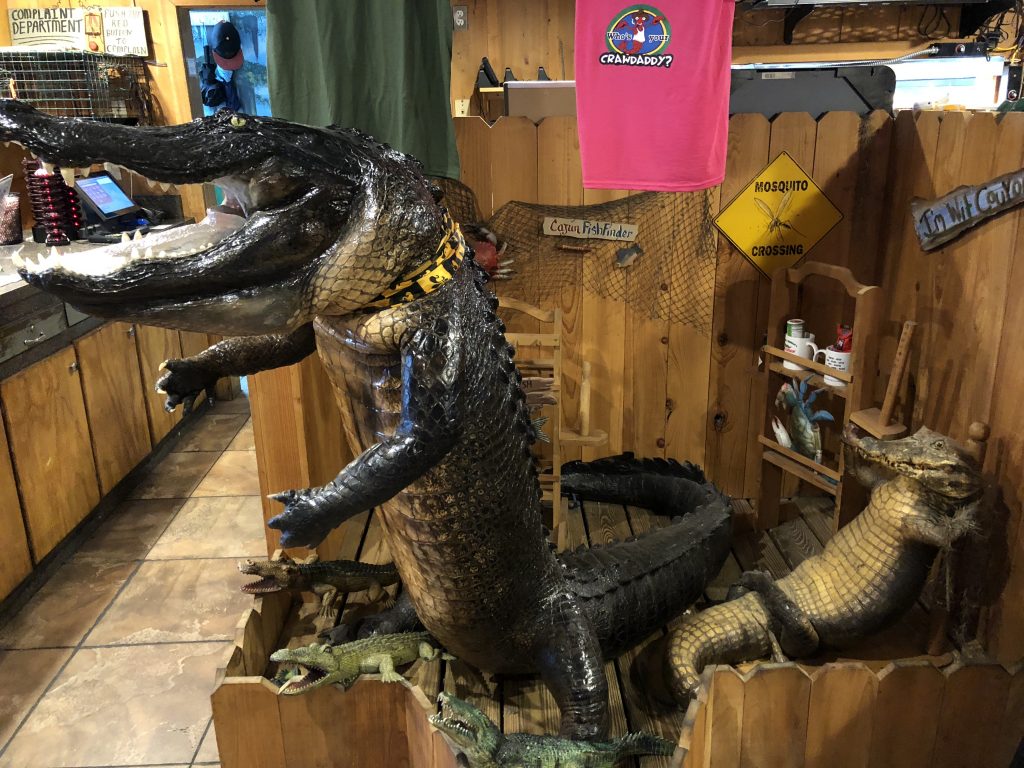 Now, what's no joke is Boudreau and Thibodeau's in Houma, LA. If you're driving into Houma on the main drag from HWY 90, you can't miss it. From the moment you walk in, you are greeted with warm southern hospitality. There's even a nice alligator to help you find your way to your table.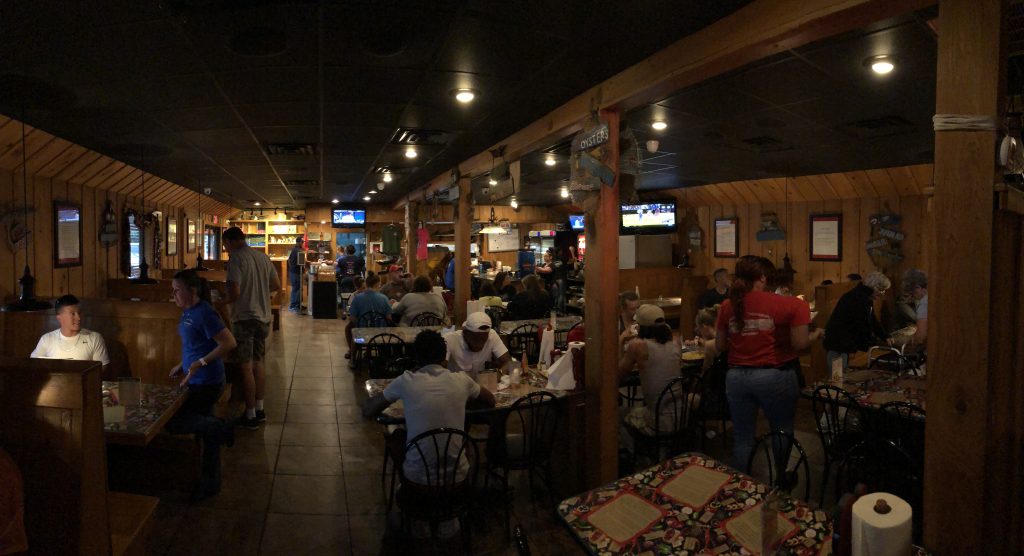 The interior of the restaurant has a very cozy and intimate feel to it. The lights are low and the booths feature individual lighting. In the middle of the restaurant, the tables are separated by a small partition. When we were seated I made a few comments and the people sitting next to us joined in on our conversation as if we were friends for years. I love this kind of stuff about Louisiana. We're all cool down here.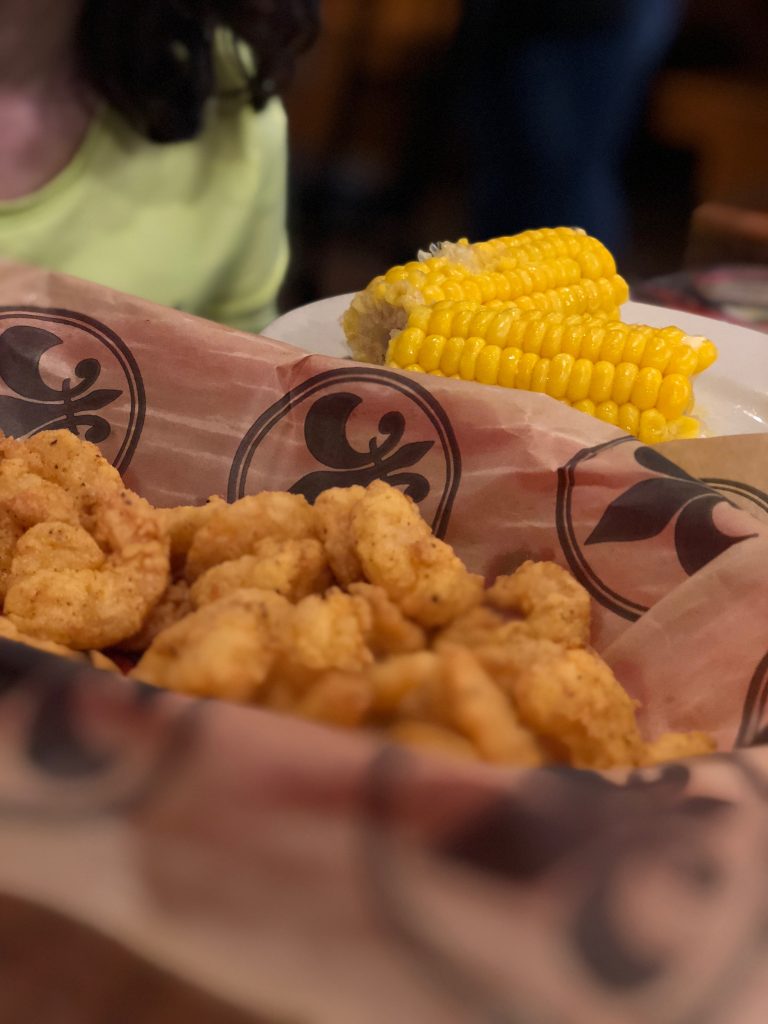 I wouldn't normally mention anything like this, but what you're looking at above is the kids shrimp. This shrimp was really good. The batter had a good, slightly spicy flavor to it. My daughter paired it with some boiled corn. Although it's a basic kids meal, it's straightforward presentation and flavor warrant mentioning. Your kids will enjoy it.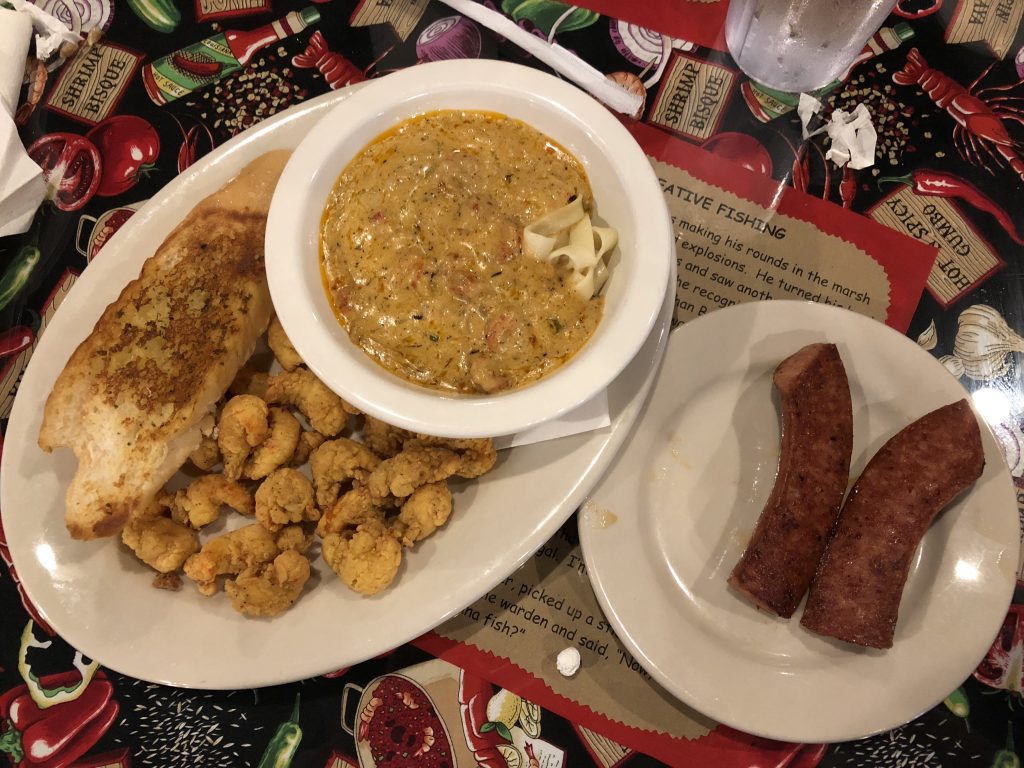 Now, look at that. I had the pleasure of enjoying the Crawfish Half n' Half. What's notable about this version of it is you get the choice of crawfish etoufee or crawfish pasta with your fried crawfish. I know its traditional to get the etoufee over rice, but I was thinking if crawfish pasta is an option, I have to check it out. I was not mistaken. It was really good!
The fried tails had the same awesome batter the shrimp had above. The crawfish itself tasted very fresh. It tasted as if they were boiled first, peeled, battered and fried. This is the real deal Louisiana crawfish here.
Oh, and that sausage? Yeah, this is one of the most awesome things about Boudreau and Thibodeau's. You can freaking get grilled sausage as one of your sides. Check out all the side options. Look, if you're going to offer me something awesome like sausage as a side i'm going for it over something like a potato.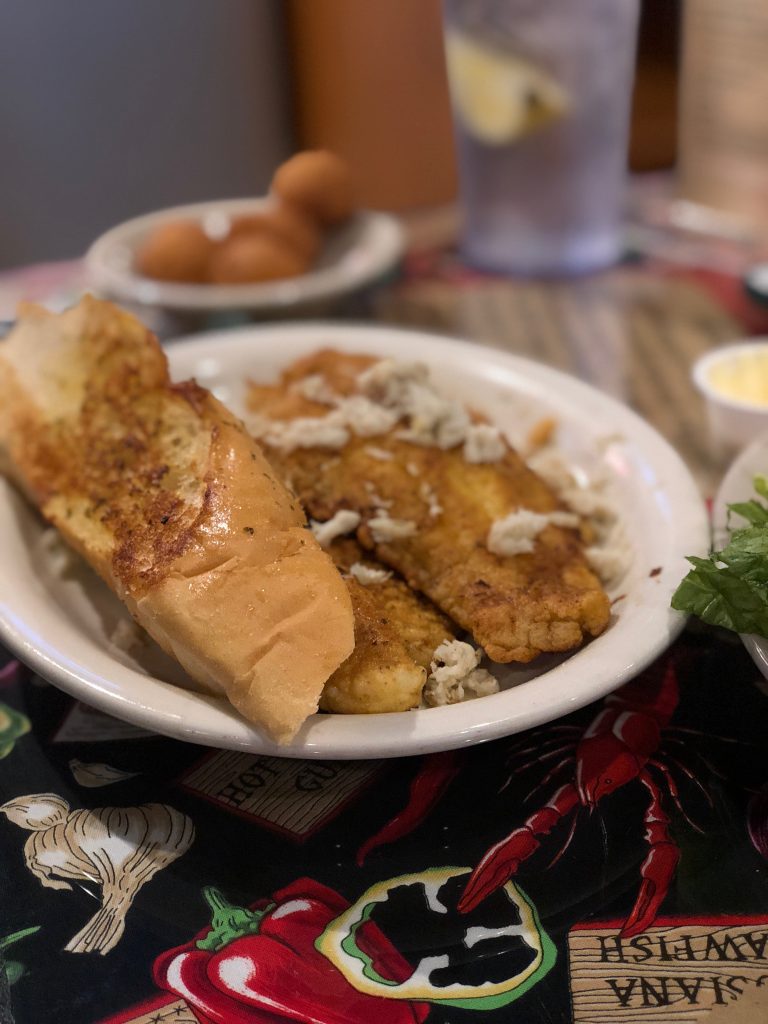 The wife ordered the Thibodeau's Catch. As the description says above, you get two nice sized catfish fillet pan-fried and topped with crabmeat. This is catfish done right. Fried is good, but pan fried in garlic butter and topped with crab meat is better. The garlic french bread is pretty slamming too.
Overall, I totally recommend Boudreau and Thibodeau's. I honestly also recommend visiting Houma. This town has some great restaurants and pretty decent shopping options considering it's nowhere near any larger city like Baton Rouge or New Orleans. Houma is a town built by the oil industry, and it shows. Stay tuned for my visit to 1921 Seafood.