No, not snow cones, shaved ice, italian ice, or slushie. In Louisiana, they are sno-balls.
Snowballs have to be one of the best sweet concoctions one can ever get their hands on. They come in a variety of delicious flavors that range from fruit to candy to Tiger's Blood! In my posts, I usually pit a few choices against each other and determine a winner. In this post, i'm just going to tell you how awesome each one of these sno-balls were as I don't think one can ever find a bad sno-ball in New Orleans.
Hansen's Sno-Bliz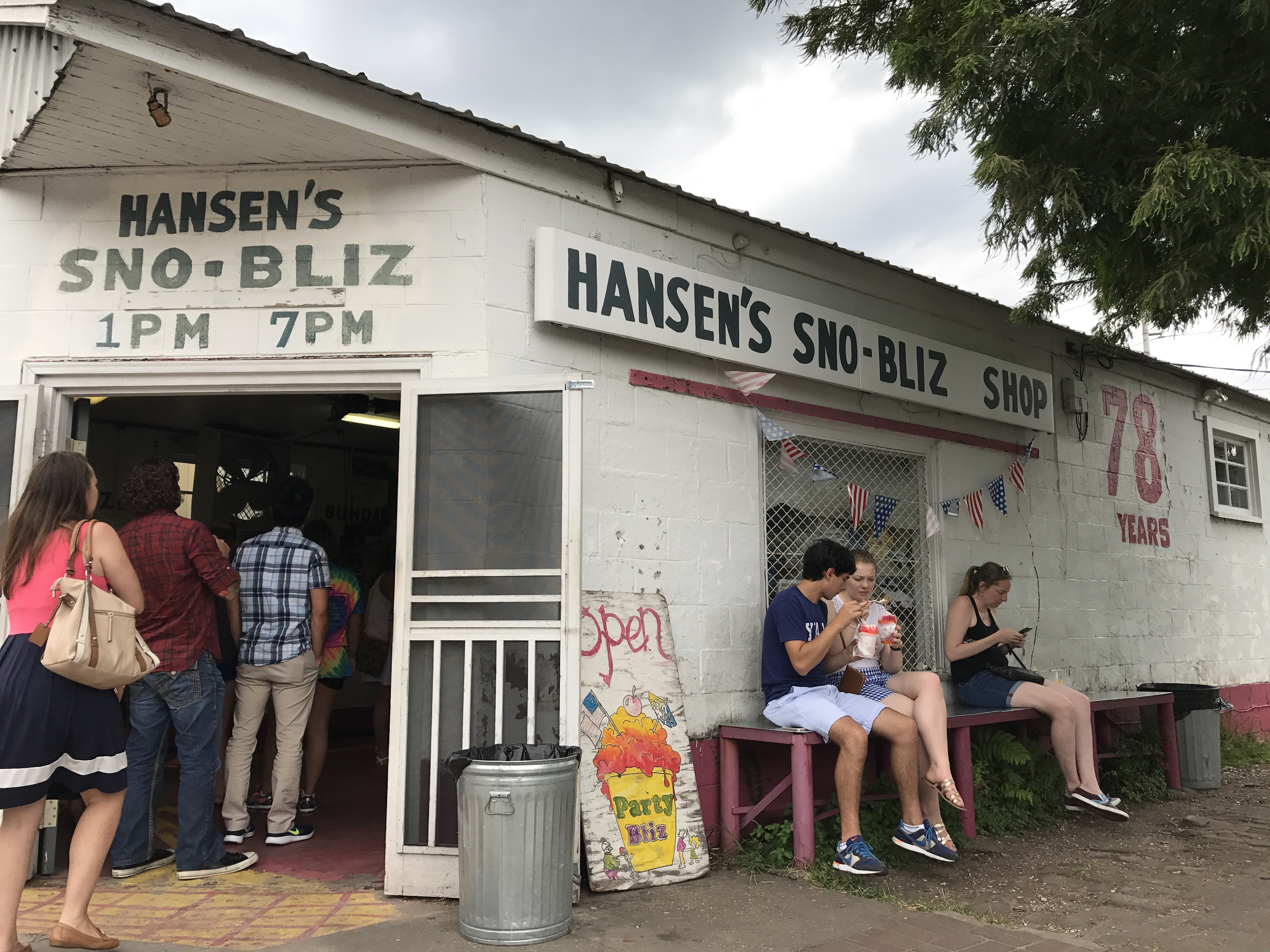 4801 Tchoupitoulas St
New Orleans, LA 70115
From what I read on the internets, Hansen's is apparently the oldest sno-ball stand in the United States. So that tells me that the rest of the country has the name of this treat wrong. Now that we've got that out of the way, I believe Hansen's is probably one of the most unique sno-ball stands that i've ever been to. It always has a line out of the door and its been in operation since 1934. It's even received a James Beard Award. Who's ever heard of a sno-ball stand to win an award like that?
Patrons are able to order their sno-ball in a collectable Hansen's cup. That's what I chose to do. It's one of my favorite plastic cups to use along with some of the other unique cups i've caught at a parade.
I captured some sno-ball action video. Check out this Hansen's employee technique.
I purchased the Strawberry Shortcake flavor sno-ball with ice cream stuffed in the middle. The strawberry cream they poured over that ever so finely shaved ice (I hate crunchy ice sno-balls) tasted heavenly. It brought me back to my childhood with it's hint of strawberry Nestle Quick flavor.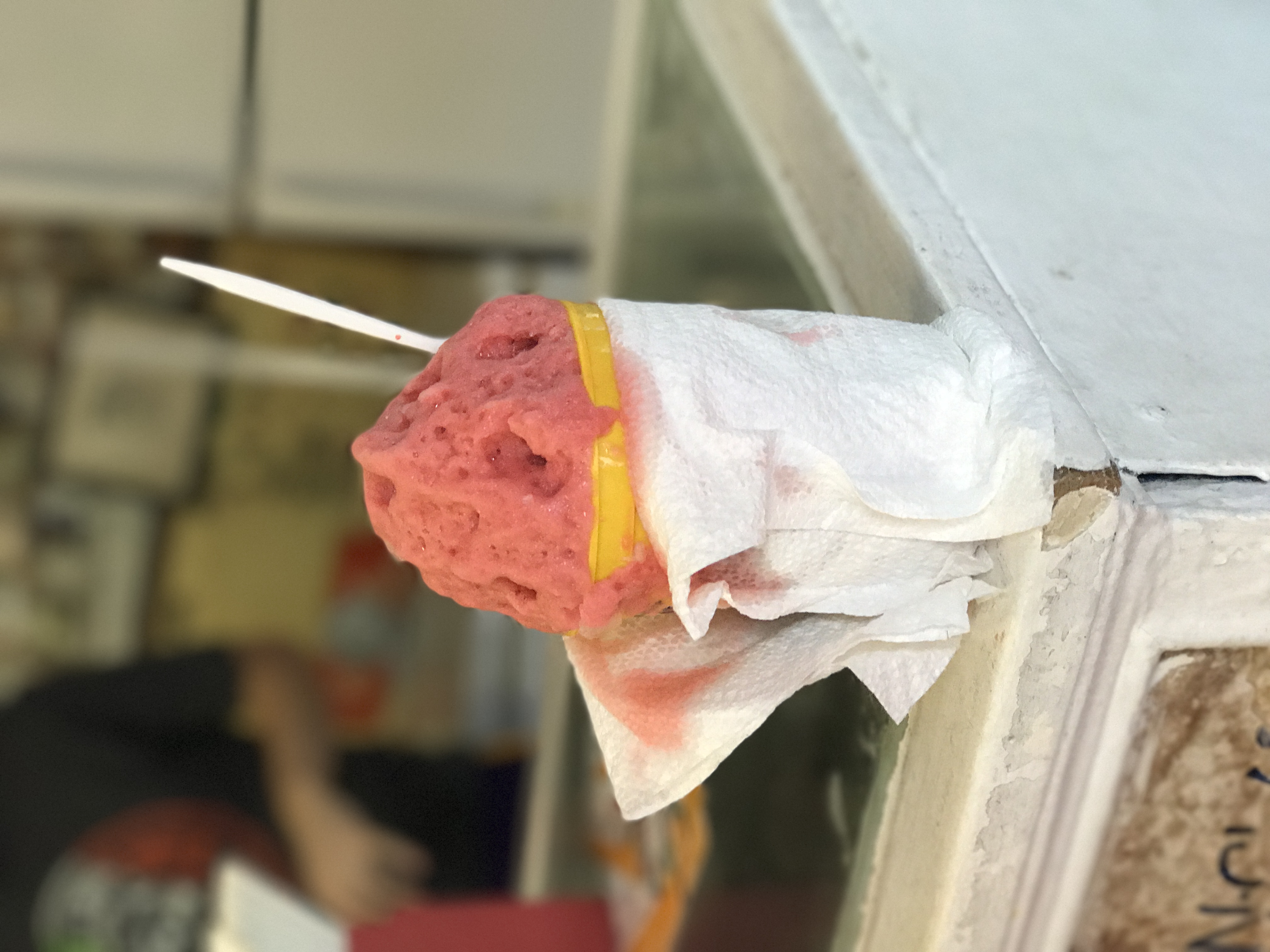 If you've never been to Hansen's you're definitly in for a treat. Go check them out on Tchoupitoulas next time you're in New Orleans.
Imperial Woodpecker Sno-Balls
3511 Magazine St
New Orleans, LA 70115
http://www.iwsnoballs.com
From what I read about this place on the internets, Imperial Woodpecker actually started as a New Orleans Style sno-ball stand in New York City. A few years after the opening of that location, a New Orleans located was opened. That's pretty cool.
Imperial Woodpecker is located on trendy Magazine St, amongst all the places you are most likely shopping or dining. The coolest thing about this place is how they serve the sno-balls in these cool chinese take out boxes. They also feature a variety of non-traditional flavors such as Pineapple-Cilantro, Watermelon-Jalepeno and Strawberry-Basil. I don't think i've seen flavors like that anywhere else.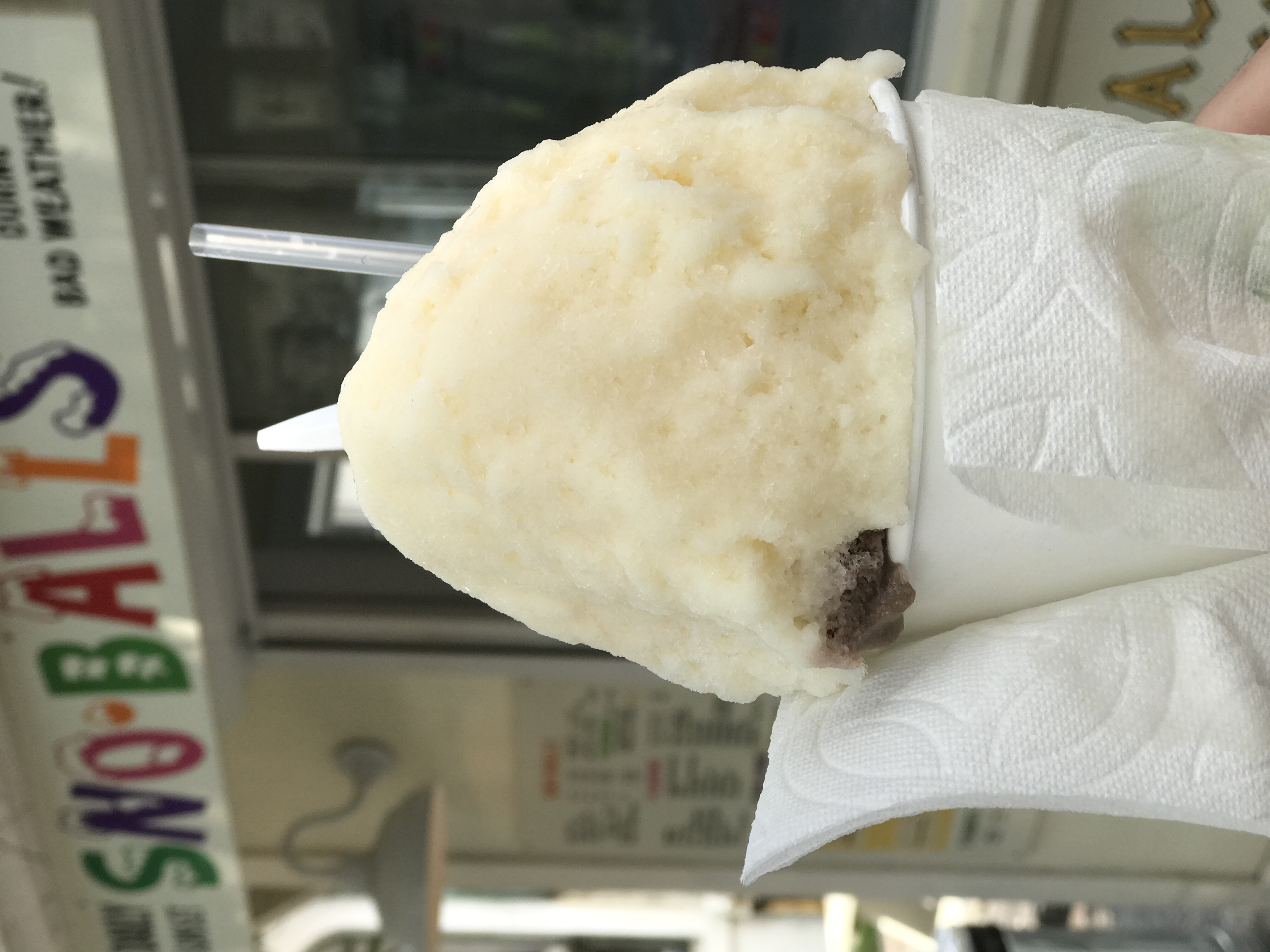 I tried the wedding cake snowball, stuffed with something brown (i'm assuming chocolate ice cream). It's been a while since I took this pic. I remember the flavor being awesome but I wasnt a fan of the ice as it was a little more chunky than I like. I need that ice as smooth as butter.
If you're in the area, I totally recommend checking this sno-ball stand out.
Sno-La (Metairie)
2311 N Causeway Blvd
Metairie, LA 70001
https://sno-la.com
I mean outside of Hansen's, Sno-La had me rethinking what is a sno-ball. I'm standing in line looking at their menu and seeing cheesecake all over it. I'm thinking to myself "they seriously put freaking cheesecake in the middle of a sno-ball?!" What else can one put in a sno-ball? This is expanding my mind, man. Other than the cheesecake, Sno-La uses fresh fruit amongst it's ingredients to compliment your sno-ball. This is next level stuff right here.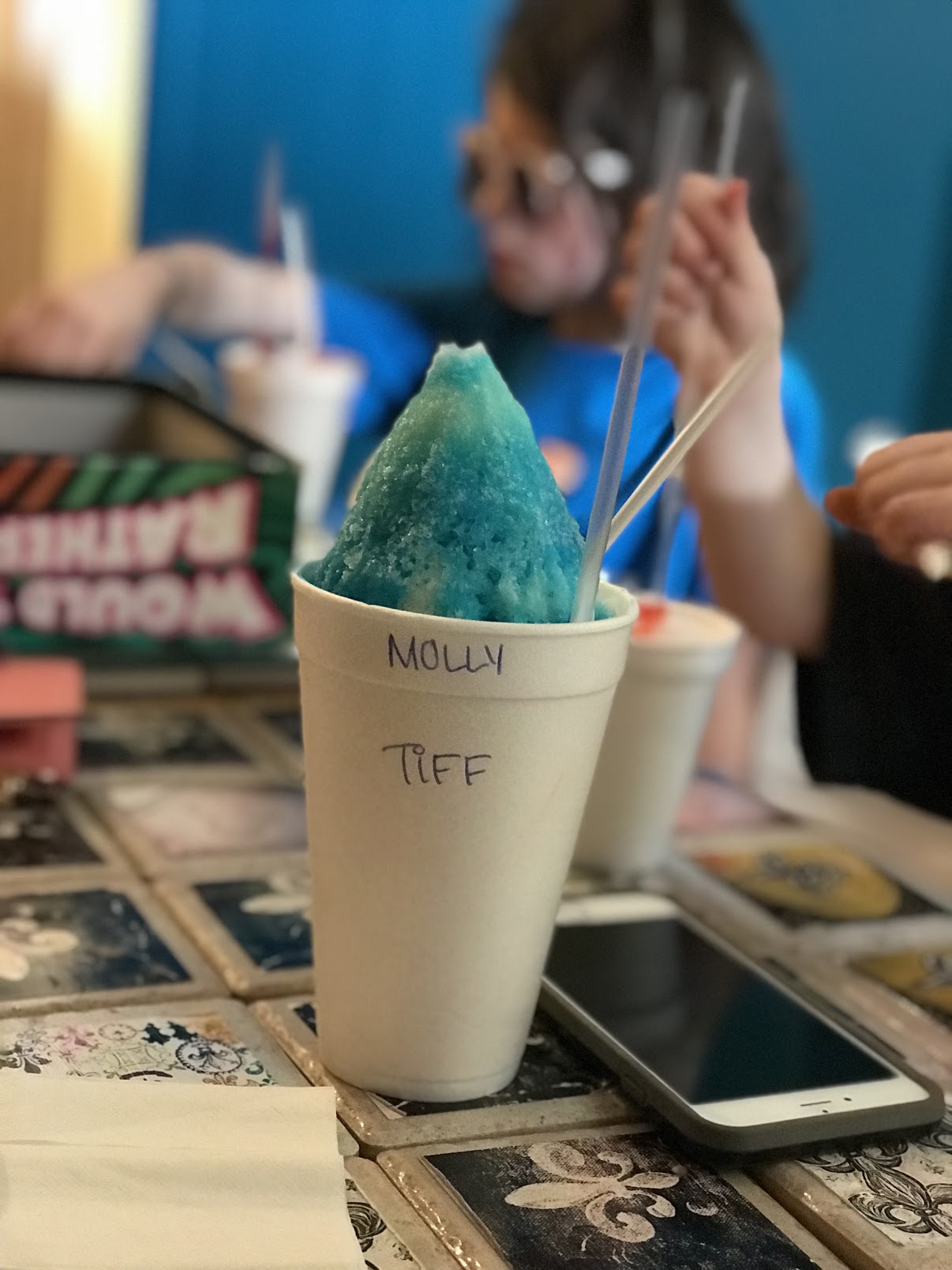 I excitedly got the Tiffany's Blue Box flavor sno-ball. It's basically a blue wedding cake flavor with this creamy cheesecake pumped right into the middle. The cheesecake had the consistency of a thick pudding instead of what you'd expect from a normal slice of cheesecake. It was just awesome to have these flavors all in a cup. I loved it.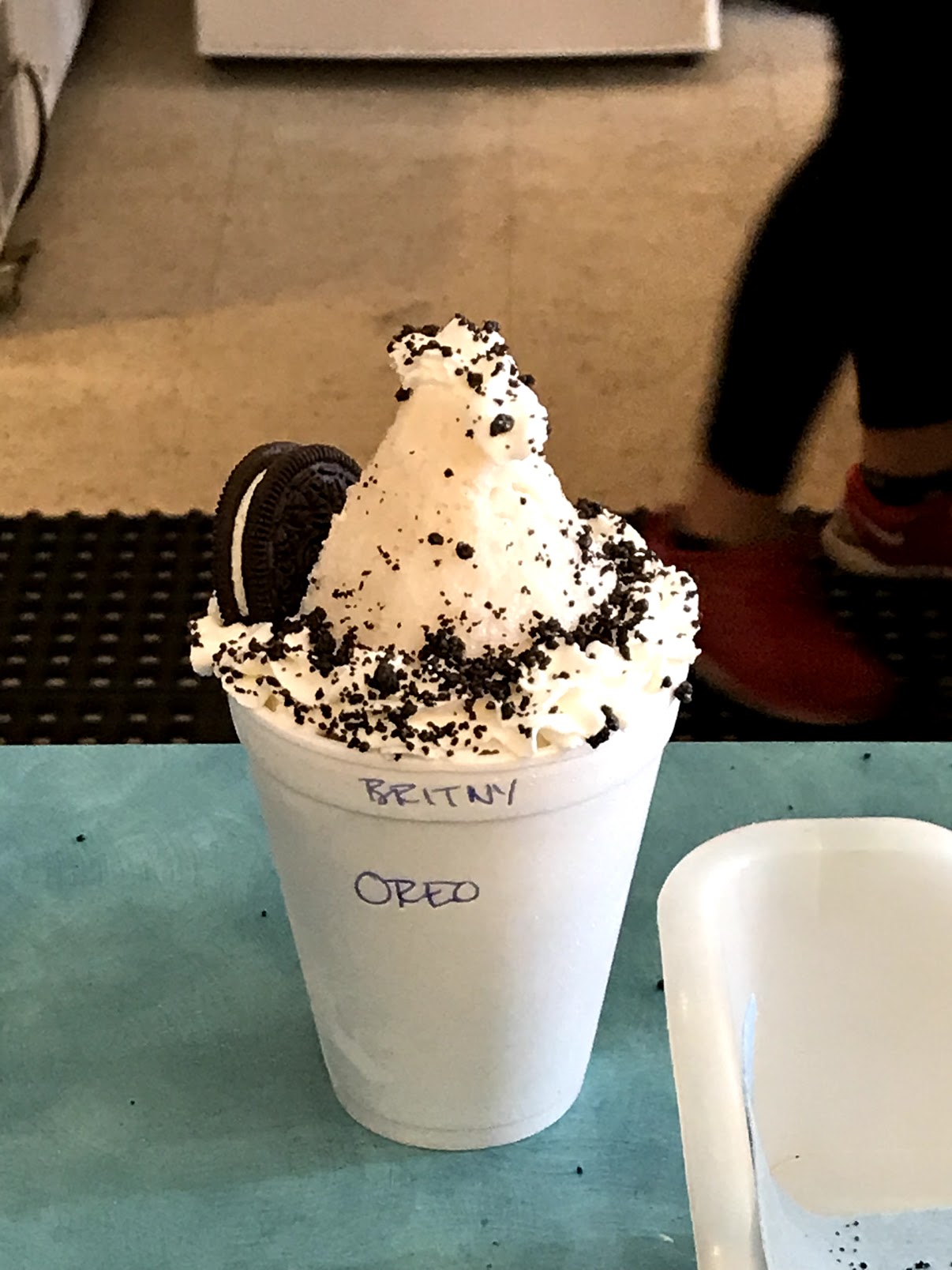 Another favorite of mine was the Oreo Cheesecake flavor that comes freaking garnished with an Oreo cookie! They somehow managed to capture the essence of an Oreo cookie in the Sno-ball flavoring cream and then threw some cheesecake in it because why not. It was awesome. I love Sno-La.
Sno-La has two locations, one in Metairie and the other in Uptown New Orleans. If you only can afford to go to one sno-ball place, go here.
In Conclusion…
New Orleans is filled with many cool restaurants, bars and dessert shops. There is a whole world of sno-ball stands to explore in this city. There are also other awesome dessert spots to check out like one that makes a monster milkshake that's garnished with a freaking honey bun. That's a topic for another post. For now, enjoy your diabeetus.